Get ready for the grand opening of Mu Online Season 18 Episode 3 -- this Friday, 28 April 2023 -- 16:00 GMT+1!
This latest update introduces exciting new features such as new maps, items, quests, and a revamped crafting system. Join in-game events, giveaways, and bonuses, and compete with other players to show off your skills. With all the new content, Mu Online promises to be more exciting than ever before. Don't miss out on the Grand Opening event!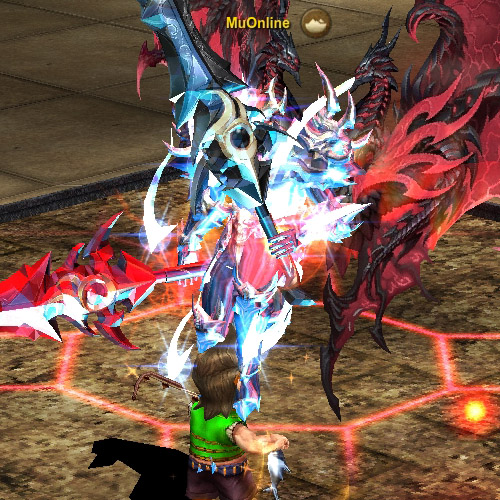 More muonline fixes installed:
[OPEN] Icewind Guild event, icewind zones are now closed and only open for the winners
[FIX] Reconnect system stopped to work as result of recent changes to resolve other connection issues
[FIX] Inability to enter Imperial Guardian event after being killed by event monster
[FIX] Boss Battle Together event entry count did not work
[FIX] HP recovery with use of specific healing potions did not work over regular HP (ignored HP added by buffs or items)
[FIX] SQLState error upon deletion of character
[FIX] Game client crash when opening Play Time event UI
[FIX] Game client crash when using mouse scroll-wheel
[FIX] Game client crash when killing EvoMon
[FIX] Inability to db-insert cash shop purchase when description used invalid symbol
[FIX] Game client crash upon performing specific chaos mix
[FIX] Rare scenario of character delete that could cause data server crash
[FIX] Instance server could "freeze" at specific scenario
[FIX] Skill + hack possibility slayer
[TEST] Icewind valley event
[FIX] Gates do not appear at specific stage/day of Imperial Guardian event
[FIX] Boss Battle entry warps to Varka entrance
[FIX] /events command result shows inaccurate timing for selected events
[FIX] Data did not clear when reloading Custom Buff System
[FIX] Pick up item notice (of NoticeSystem plugin) displays invalid result if same item index presents with different options
[FIX] Added Knock Back effect when dying from Combo
[FIX] Some skills for damage hack
- RF & MG custom sets has now more custom options %
- increased rf damage
- increased lancer damage
- increased lemuria damage
- increased mg damage
- reduced bk deathstab (blow) skill
- increased bk global pvm
- fixed arca battle jewel of soul 1 coudn't not be taken out
- fixed muun dropped lvl 0 to lvl 1 to solve cannot evolve issue
- blood crafting frame cannot be sold and some other items
- Now message vip14 to enter VIPSERVER
- fix white icon (siege or icewind vally)
- brilliant shield can be equipped by all classes now
- removed IK brilliant custom options
- fixed ancient options on new apo ik items
- Added set apo IK custom options
- remove health potion, only use complex
- Improved kingz dragon set options compared to kingz white
- New set Kingz ice Dragon set
- fixed bug on illusion temple 2 reward
- Extended NixesBossZone by RewardMode reward attribute
- Rare scenario of SQLSTATE error that resulted in account connection status not being updated
- Knock Back effect upon Combo attack pushed back attacker instead victim
- Apocalypse Mastery Guild Charm was not taking an effect when used
- Invalid spawn location after death in Boss Battle Together
- Repeating same labyrinth level did not apply "repeat" points properly
- Labyrinth of Dimension data was not correctly saved after completion of event levels
- Removed Doppelganger Illusion Knight character from the spawn due to lack of game client support
- Invalid tooltip description of Elixir items
- Rare case where Game Client crash when entering the game
- Invalid monster attribute error upon start of Doppelganger event
- Durability attribute not working for overlapping items in Chaos Cards System
- Event Map Ticket not supported by Imperial Guardian and Boss Battle Together events
- Combo and Nova skills Knock-back die animation not worked
Enjoy!